Can email hold its own against customer service chatbots?
Chatbots – those conversational assistants traditionally housed on brand webpages and in messaging apps – are becoming a popular tool for dealing with increasingly online customer service inquiries. They use AI and machine learning to determine a user's problem and provide a potential solution. The top reason for U.S. consumers to interact with a chatbot is when contacting customer service.
Many of these queries were likely being asked by email before the advent of chatbots which begs the question, what effect will chatbots have on the future use of email as a customer service channel?
Many larger companies, such as Apple, Uber, and Nike are already actively moving away from email as a customer service channel. And, according to various surveys, chatbots seem popular among customers who prefer to wait less time on the phone or for email responses and use a service that, on the whole, appears to be solving their problems.
"When it comes to chat, consumer expectations are changing fast," said Olivier Njamfa, CEO and founder of Eptica. "They value its real-time nature, and want to use it as a key part of multichannel conversations with brands."
Eptica found that nearly three-quarters (72%) of consumers in their recent UK survey (Nov. 2017) said online chat interaction boosted loyalty and a third will use chatbots. Customer support platform, Helpshift, ran a survey in the U.S. and found more than half of Americans (55%) want chatbots to play a role in customer service as long as they make the process more efficient (75%), reduce the time waiting for a human to answer the telephone (73%) and decrease the time it takes to resolve an issue (71%).
However, both surveys revealed that, currently at least, chatbots have their limitations. For simple queries such as opening hours, location, or even account status as well as other frequent use cases where solutions are similar there is an obvious business case for automated responses to free up human resources for more complex queries. It's when customer's require complex answers to complex questions chatbots currently fall down.
In fact, Eptica's survey found that 77% of UK consumers want to chat with a human when it comes to complex customer service issues and 'chat with a human' often means via email. Few people today like to talk on the telephone nevermind the potential wait time or navigating through an IVR maze. In that respect, while chatbot technology continues to be developed, email continues to have a significant role to play in customer service.
ABOUT THE AUTHOR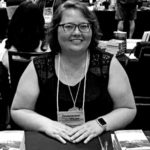 Kristina Knight is a freelance writer based in Ohio, United States. She began her career in radio and television broadcasting, focusing her energies on health and business reporting. After six years in the industry, Kristina branched out on her own. Since 2001, her articles have appeared in Family Delegate, Credit Union Business, FaithandValues.com and with Threshold Media.