Expert: How local search can help marketers now
Kristina: Why are local SEO platforms the saving grace for retailers this season?
Alex Porter, CEO, Location3: As e-commerce continues to expand, and new online-only brands emerge daily (Etsy, Blue Apron, Trunk Club,etc.), it's only natural for some to jump to conclusions about the death of brick-and-mortar. However, online searches for key products and services can often be more top-of-funnel, research-oriented searches, that ultimately guide a consumer to a physical business location as they move closer to an actual purchase during their customer journey. Using a few local search tactics can motivate consumers from online research into your physical stores. Platforms like LOCALACT allow retailers with a large brick-and-mortar footprint to efficiently and effectively scale those efforts for maximum consumer impact.
Kristina: Break down how local SEO platforms can help.
Alex: Google My Business: During the holiday season, every retailer wants to draw the largest customer base. For local stores, in particular, marketers should become more versed with Google My Business to get your locations in fighting shape to reach position one on local search. The search engine giant currently owns more than 95% of consumer search activity, so ignoring Google means you're ignoring potential customers. Necessary, but often forgotten, details include store hours, accessibility, sales and promotions, directions and availability. Every update for each location drives relevance for users searching from across devices.
Local Pages: Each and every one of your locations should have its own online presence on social media and it's own website. Additionally, they need to be revamped with the most updated and complete location information. Add in hyper-local content or even seasonal holiday touches, including tagging and boosting the most relevant holiday-related information, photos, promotions and social integrations. These pages should be an accessible way for users to easily find your information on-the-go.
LOCALACT: LOCALACT unifies localized digital advertising with organic listing and search management to provide a complete digital marketing solution that drives measurable results for brands with a large brick-and-mortar footprint. Features include local business listing management with rigorous data validation, advanced location, and consumer insights, consumer review monitoring, paid search management, Facebook advertising, and more.
Kristina: Despite more shoppers going digital, you suggest brick-and-mortar stores remain viable. Why?
Alex: Despite the rise of e-commerce, consumers still prefer to shop in-store so they can have a tangible experience with certain products before they spend their hard-earned dollars. Even though online shopping has an ease factor, 49% of consumers prefer shopping in-store to take home items immediately. Visualizing, touching and feeling products physically are just one of the many reasons consumers choose to shop in stores versus online. Even though e-commerce will continue to expand and evolve, brick-and-mortar stores will always hold an important place in a customer's journey and buying experience. People need the physical and personalized customer experience.
Brands like Amazon understand this as well. Last winter, the online giant opened the doors to its first physical bookstore in Seattle, with 30 more pop-ups throughout the country following, and plans to open its 14th and 15th permanent locations in Washington D.C and Austin in 2018. Additionally, online retailers, like Birchbox and Rent the Runway, also opened up their own locations after realizing the impact of brick-and-mortar on their revenue and customer base. Traditional brick-and-mortar retailers are also deploying temporary retail experiences, like Target Wonderland, and M&M's pop-up shop.
Kristina: Why are local search platforms like LOCALACT important for marketers?
Alex: Local search will continue to play an important role in helping drive customers to brick-and-mortar locations from their desktop and mobile searches, but the ability to consistently scale such programs across hundreds or thousands of locations is no small task. LOCALACT allows brick-and-mortar brands with a significant number of locations easily roll out campaigns across Google, Facebook, and more while giving brand marketing teams the ability to manage all location data in a centralized way, and ultimately understand how those campaigns are affecting their overall bottom line. Marketers need to ensure every single physical location is supported by a robust digital strategy so they can appear prominently in customer search results. The brands who understand the importance of incorporating technology and hyper-local digital tactics into marketing their physical locations will continue to thrive as retailers and stand out from competitors.
ABOUT THE AUTHOR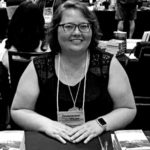 Kristina Knight is a freelance writer based in Ohio, United States. She began her career in radio and television broadcasting, focusing her energies on health and business reporting. After six years in the industry, Kristina branched out on her own. Since 2001, her articles have appeared in Family Delegate, Credit Union Business, FaithandValues.com and with Threshold Media.