Brands: This is where you should experiment with personalization
Kristina: Are there areas where marketers should start to experiment with personalization? For instance, is this something that should be deployed on a brand's site first?
James Glover, President & CEO, Coherent Path: The problem with website personalization is that it can sometimes compete with the reason a shopper came to the site in the first place. If a shopper is led down a path that isn't in-line with their intended visit, they may just abandon the session altogether.
Email personalization, on the other hand, enables the retailer to initiate the conversation and provides the opportunity to say, "I want to show you these things today" rather than distracting the shopper from the reason they visited a site.
Kristina: How can brands use personalization to establish trust with customers and engender long-term loyalty?
James: It all goes back to the concept of trusting someone who knows you and wouldn't steer you wrong. Shoppers know that retailers are tracking their shopping behaviors and have a lot of other data on them. They have come to expect that retailers know them and understand what they want to see and hear from them.
By taking a data-driven approach to their email programs, retailers can ensure every communication is completely tailored to the individual shopper's needs, interests and tastes – from the subject line to the products included. This relevancy will build long-term trust with shoppers, especially as these personalized messages evolve along with their shoppers' interests.
Kristina: How does retail succeed in this difficult environment? Do you see personalization as a strategy that could help?
James: Absolutely. Personalization not only helps retailers win shoppers by demonstrating that you know what they like, need and want, but it also provides enormous value to brands that sell within other retailers' stores – whether it be a physical location or on their ecommerce site. The attractive part of selling to department stores is that it enables brands to expand their customer base. For example, a brand like Eileen Fisher has a very loyal customer base, but they need to grow it. The quickest way to do this is to get more exposure.
Selling their products to Neiman Marcus helps because the department store is able to use their extensive data to identify the shoppers from other brands, such as Theory and Vince, that might be interested in Eileen Fisher based on their other shopping behaviors, tastes and interests. This is just one example of how personalization can help revitalize retail.
ABOUT THE AUTHOR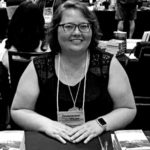 Kristina Knight is a freelance writer based in Ohio, United States. She began her career in radio and television broadcasting, focusing her energies on health and business reporting. After six years in the industry, Kristina branched out on her own. Since 2001, her articles have appeared in Family Delegate, Credit Union Business, FaithandValues.com and with Threshold Media.