How Widen helps Spectrum Brands streamline
Kristina: What did Spectrum Brand's manual review process look like before going digital?
Latrisha Eilers, Production Design Supervisor, Spectrum Brands: At first, there was no formal process, no accountability, and no catalog of approved projects or color samples. Buy in and review had not been involving the right stakeholders; legal and regulatory review was being skipped in the interest of saving time. As a result, there was often rework and legal ramifications to face, costing tens of thousands of dollars each time. Additionally, a lack of quality control up front could end up costing our production teams their bonuses.
Kristina: Why did you partner with Widen, and what has changed since doing so?
Latrisha: In January of 2017, we implemented the digital project management and proofing system with the Widen Workflow team. Doing so has allowed us to become a strategic partner working with the marketing team. Now, instead of babysitting individual pieces, our design team is able to focus on more important projects like helping elevate our print and digital content.
Kristina: What are the benefits to an approach like what Widen offered Spectrum?
Jake Athey, VP of Marketing, Widen: Collaboration and communication
Workflow's feedback loop enables all project stakeholders to communicate and collaborate more smoothly than ever before, removing stress, guesswork, and frustration and adding more time to build brilliant creative pieces.
Visibility and transparency
Take the guesswork out of the creative process with Workflow's progress tracker. Activity feeds, notifications, calendars, and dashboards give visibility to project stakeholders to see previously unknown information like how much work the creative team is currently doing, where process bottlenecks may be hiding, and what an individual project's status is at any given time.
Accuracy and quality
Align requesters and your creative team members from the beginning with integrated work requests. Workflow facilitates the project intake process and binds crucial request information to the project deliverables, resulting in more accurate content and less costly rework.
Consistency
Make sure reviewers and creatives stay on the same page and share the necessary information at the right time with our workflow management capabilities. Once the appropriate workflows have been established, save time, confusion, and chaos by simply reusing and tweaking when necessary.
Kristina: Will Spectrum roll out this system to its global brands?
Latrisha: Initially, we instituted the digital workflow in just one of our businesses creative departments. That was in January. Now, word has circulated that we have automated our process and it has helped to solve visibility and quality issues, as well as positively impacted our turnaround times. The remaining two creative departments at our office headquarters will be using the new process and digital system by October. We've also gained interest from other organizational groups to automate some of the processes of our packaging department and our legal department. Aligning processes at world headquarters is the first step to providing global business solutions for creative and marketing operations management.
Kristina: How can other businesses spend less time reviewing and more time achieving?
Jake: 1. Map/draw out your team's ideal process to uncover inefficiencies and strengths. Then find the right balance of process and tools to make it happen.
2. Open lines of communication across siloed teams, departments, and locations to experience true collaboration.
3. Save time and sanity by managing multiple workgroup and agency relationships in one tool and centralizing communications and processes.
4. Create a positive work experience by keeping everyone in the loop.
5. Use workflow and digital asset management tools together to create a visible creative process and protect the value of your brand.
ABOUT THE AUTHOR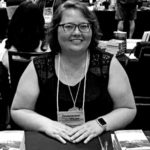 Kristina Knight is a freelance writer with more than 15 years of experience writing on varied topics. Kristina's focus for the past 10 years has been the small business, online marketing, and banking sectors, however, she keeps things interesting by writing about her experiences as an adoptive mom, parenting, and education issues. Kristina's work has appeared with BizReport.com, NBC News, Soaps.com, DisasterNewsNetwork, and many more publications.