How to capitalize on social video formats
Kristina: We're seeing the proliferation of user-generated content across all mediums. How can brands be using user-generated content to reach more consumers?
Amir Shub, General Manager, Americas, Smartly.io: BARK, the company behind BarkBox, is a great example of a customer having success here. Canvas works really well for them. They use a lot of variations of images and video, and often compile video that customers upload when they get new boxes delivered. They source the videos by having customers use #barkboxday when they share on social, and the ads get a lot of organic engagement, likes and comments. We've also worked with fashion ecommerce companies that use third party software to pull Instagram and social media posts, often from a hashtag, from their customers and use that as ad creative. User generated content helps tell a much more colorful story about a brand and opens up a lot of different visuals to work with.
Kristina: Facebook has a number of video ad formats. How can brands be using those formats to their fullest extent?
Amir: Facebook does have quite a few ad formats specific to video and that allow video and static image to be combined. Shoppable video can be really effective because it eliminates a step for the consumer. Canvas ads, which instantly load to a full-screen experience, are great for video and can be used to show a localized collections of products alongside a map showing a consumer to the store. The Collection format lets brands highlight one product they know will grab a consumer's attention alongside other related products for upselling.
Kristina: What about automation – is this something brands need to invest in?
Amir: Creative automation can help brands get the assets needed to take advantage of each format, but what's most important is ongoing testing to see what resonates best with each brand's' own audience and then moving the spend to what's working. For example, our customer JustFab (a TechStyle brand) was putting a lot of efforts into Carousel ads, but the data showed they were doing fine but not a top performer and this insight led the company to experiment with different formats. They found showing multiple products in one creative vs. one product per ad was much more effective. Another customer uses automated creative to launch over 500 different ads each day, but then by the end of the day is only putting budget into the five best-performing. More high-volume testing and use of data really lets brands refine their strategy and focus on the formats and creative that are driving performance.
Kristina: Let's skip ahead to ten years from now. Tell me, what does video advertising look like?
Amir: It's early to say now, but with Virtual Reality and Augmented Reality, video for digital publishers and advertisers is only in its infancy. It's not so much what does it look like, but where it'll be, which is everywhere. I really expect that video will be the dominant medium that we deliver information through and that brands connect with consumers through. The ways we create and distribute video will be incredibly tailored to the consumer using technology. As attention shifts away from TV and to digital, we'll maintain the video medium that made TV so successful for so many years, but also see video evolve and advance tremendously.
ABOUT THE AUTHOR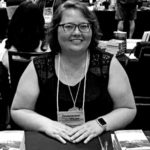 Kristina Knight is a freelance writer based in Ohio, United States. She began her career in radio and television broadcasting, focusing her energies on health and business reporting. After six years in the industry, Kristina branched out on her own. Since 2001, her articles have appeared in Family Delegate, Credit Union Business, FaithandValues.com and with Threshold Media.