Expert: Why brands are losing control of data, and how to stop it
Kristina: What are marketers doing wrong when it comes to customer data?
Kiyoto Tamura, VP of Marketing, Treasure Data: Understanding the impact of marketing and advertising strategies is and has always been hard. Marketers are still chasing after the same goals: how do we make the right people aware of our products and get them to complete purchases? While there's no shortage of customer data, marketers are failing to use theirs intelligently, instead choosing to use the same outdated, siloed processes.
Marketers are always collecting data, but might not always be looking or separating the right pieces to obtain their goals. Brands today have more consumer information than ever, but they are still stuck with the basics –email, location, and demographics–when it comes to capturing data. While these are always key pieces to have, it's important to think outside of the traditional methods, and focus on other metrics like lifestyle, online purchases, loyalty and rewards program history, mobile app usage and customer service interactions. Otherwise, you're only getting half of the puzzle, which makes it harder to fully understand your customer.
Kristina: What questions should marketers be asking when analyzing their customer data?
Kiyoto: With so many different options and competitors for consumers to shop, it's important for retailers to understand the the power of personalized marketing and that you are utilizing your customer data to help better serve your customers. Their shopping history and purchases provide a pathway for you to understand their wants and needs, opening up the opportunity to increase profit and provide incentives for them to return. For example, if a customer has spent a lot of money on sneakers recently, send them coupons and discounts on further sneaker purchases in the future. This will not only make them feel appreciated, but it will also encourage them to return.
Kristina: Where are brands losing control of their data?
Kiyoto: I do believe that brands are losing control of their customer experience because their data is sucked into distribution channels like Amazon, Google and Facebook. Facebook has 1.9B MAUs and 1.2 DAUs. There's 3-4 billion people on the Internet, which means Facebook has 50% coverage, and they can identify them via their emails/unique IDs. This is an incredibly powerful market position. And a similar argument can be made for Google (Gmail, AdWords, Analytics, etc.), Amazon and Tencent (WeChat).
ABOUT THE AUTHOR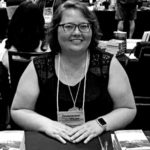 Kristina Knight is a freelance writer based in Ohio, United States. She began her career in radio and television broadcasting, focusing her energies on health and business reporting. After six years in the industry, Kristina branched out on her own. Since 2001, her articles have appeared in Family Delegate, Credit Union Business, FaithandValues.com and with Threshold Media.