How to improve local search efforts
Kristina: First, let's discuss what local search is and why it's important to brands and retailers.
Alex Porter, President, Location3: Local search [is] any search performed which is aimed at locating within a specific geographic area. For example, if a user was looking for a dentist in her neighborhood and googled "dentist near me."
While the concept of Search Engine Optimization (SEO) has been around for a while, the methods change all the time. In particular, when it comes to local search, it's critical that brands and retailers are optimizing their web and mobile SEO strategies for customers who might be searching for their business or for similar keywords. With all of the technology we currently have in 2017, including Google Maps, local competition is even stronger than ever, and if you're not on top of your rankings, you can bet your competitors will be.
Kristina: How does local search impact the consumer?
Alex: Local search is an important customer touchpoint since most customers, vendors and potential employees will likely conduct research online for information about, or directions to, your location. A bad online experience can quickly wreak havoc on the customer's experience, which might deter them from visiting your store or even discovering your location in the first place.
Additionally, online directories and search engines are filled with bad data, which is a key reason for duplicate local listings or the reason your business might not appear at all. Not only does this prevent the consumer from finding your location online – let alone visiting your location – it impacts your overall revenue.
Kristina: Which localized tactics should brick-and-mortar brands use to increase foot traffic?
Alex: On-the-go consumers are conducting research and shopping with their mobile devices before they even set foot into a store. They gather information about business hours, sales and discounts and come into stores prepared to make their purchase.
To improve the customer experience in-store, brands should focus on blending their digital presence with their physical stores. Stores like Macy's and Sephora offer in-store pickup for items bought online, provide the option of home delivery of products purchased in-store and have the ability to show product availability at nearby stores in search results. It's all about creating a smooth shopping experience, where consumers want to visit a store rather than order online.
More from Alex and Location3 next week, including tips to improve local SEO efforts.
ABOUT THE AUTHOR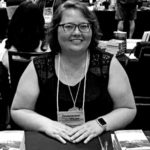 Kristina Knight is a freelance writer with more than 15 years of experience writing on varied topics. Kristina's focus for the past 10 years has been the small business, online marketing, and banking sectors, however, she keeps things interesting by writing about her experiences as an adoptive mom, parenting, and education issues. Kristina's work has appeared with BizReport.com, NBC News, Soaps.com, DisasterNewsNetwork, and many more publications.