In-store tech not keeping up with consumer expectations
Fujitsu's latest research, 'The Forgotten Shop Floor', reveals that 4 in 10 consumers are often disappointed by technology offered in physical stores. In fact, just over 6 in 10 said they would choose one retailer over another based on in-store technology.
Today's in-store technology experience simply isn't keeping up with consumer expectations – 42% say in-store tech is too slow, and 37% that it is unreliable. In fact, three-quarters (73%) of consumers say they can access more information that store employees and quicker, leaving two-thirds (65%) of employees to use their own devices in-store.
"The digital pace of change is faster than ever," says Rupal Karia, MD, Retail and Hospitality, Fujitsu UK & Ireland. "Consumers will embrace retailers who can give them the experience they want, before they know they want it. The message is clear: consumers are prepared to spend more with the retailers that deliver digital, and leave those that don't."
The desire for technology to feature more prominently in offline shopping experiences plays a prominent role in whether a consumer would shop at store opened by an online retailer, such as Amazon Go.
According to recent research from ChargeItSpot, 55% of shoppers said they would shop at an online retailer's brick-and-mortar store of which 42% said their main reason for choosing to shop there would be convenience (42%) followed by technology (20%). Other reasons for shopping at an online retailer's store were lower prices (13%), out of curiosity (10%) and kerbside pickup (3%).
"According to our results, many in-store shoppers are open to the idea of shopping at a store opened by an online retailer," said Douglas Baldasare, CEO and founder of ChargeItSpot. "83% of respondents have echoed that they would probably or definitely do so."
ABOUT THE AUTHOR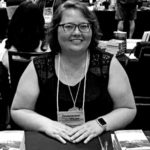 Kristina Knight is a freelance writer based in Ohio, United States. She began her career in radio and television broadcasting, focusing her energies on health and business reporting. After six years in the industry, Kristina branched out on her own. Since 2001, her articles have appeared in Family Delegate, Credit Union Business, FaithandValues.com and with Threshold Media.