Expert: Challenges for female leaders in business
Kristina: Why is gender parity at the board level moving at a slow pace?
Coco Brown, founder and CEO, The Athena Alliance: There are three main challenges, two of which are highlighted in the The PwC Annual Corporate Director's Survey of 2016.
1) Eighty-seven percent of board seats are filled through the network of current directors, which is primarily composed of male executives. These men have an average age of 63, an average board tenure of 11 years, and a very established executive network dominated by other men with whom they have built their careers.
2) Boards are overwhelmingly male and 76 percent of them do not believe board diversity improves company performance, despite the clear data to the contrary. Further, 62 percent of them do not believe board diversity improves board performance.
3) A number of boards still hold out for a profile that very few board members actually meet. They look for a CEO (only ever 1/3 of all board roles), and more specifically, a CEO who took a company public, grew it significantly or who runs a modern tech company. Given that women make up 5 percent of all CEOs, this really narrows the playing field.
Kristina: Why don't C-level executive men realize they are the key to moving past a male-centric culture?
Coco: 1) They suffer from the bystander effect, believing that someone else will step up to help solve the problem, so they are not needed.
2) They think it's harder to change the status quo than it really is.
3) They don't buy into the benefits of change.
4) What they have always done works.
The model isn't broken from their point of view, because they have been successful in building businesses of all types in the United States. It's hard to get men to want to work on something that doesn't fundamentally feel broken. They support women achieving at the same levels as them, but they don't want to be responsible for pausing their businesses to make this happen.
ABOUT THE AUTHOR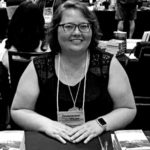 Kristina Knight is a freelance writer with more than 15 years of experience writing on varied topics. Kristina's focus for the past 10 years has been the small business, online marketing, and banking sectors, however, she keeps things interesting by writing about her experiences as an adoptive mom, parenting, and education issues. Kristina's work has appeared with BizReport.com, NBC News, Soaps.com, DisasterNewsNetwork, and many more publications.