Top 3 tips to prep for Millennials in retail
Kristina: How can merchants better prep for Millennials coming to their stores?
Amitaabh Malhotra, CMO, Omnyway: The millennial shopper is a highly-informed shopper. This is likely the shopper that has done their research on the product they are looking at through multiple online channels, and has a pretty good idea of pricing and deals offered both online and in-store. They are also the ones that would be looking to come to the store to experience the brand and the product – as they are fully capable of buying it with a click online if they wanted to. They are also the shopper that is very price sensitive, and is looking for a deal. Millennials are also looking for authenticity and quality, and are very quick to change brand loyalties if they find either lacking. This needs to be reflected in all aspects of their interaction with the brand – how they gather information online, how credible is the information provided, how well does it translate to the actual product being sold and the price it is being sold at and most importantly, how easy it is to buy that product, using all the offers and coupons the retailer promised. Invest in extending digital interactions to the store; not only does it become a tool that acts as a sales concierge, but it also increases dwell time and thereby increases revenue.
Kristina: How important are payment apps right now? And, how important will these apps be in the next five years?
Amitaabh: A lot of millennials are shying away from traditional banking and transaction instruments, and are more comfortable using closed loop systems. These can be either peer to peer payment apps, dependent accounts linked to a parent, or mobile wallets. What is most important is to ensure that the retailer can accept the payment method of choice that gets presented, which may not come in the form of cash or credit card. The dependency on traditional checkout and point of sale systems needs to be removed, and payments need to move into the background – much like Uber and Amazon. Utilize technologies that allow for this flexibility at checkout throughout the store.
Kristina: For brands trying to reach Millennials, what are your top 3 tips?
Amitaabh: Digitize every channel (especially the store interfaces), and ensure consistency across these channels. Focus on the experience and the quality. A great experience will earn several loyal followers, while word of bad experiences can spread very quickly too. Look at the mobile device and app as an extension of your brand, and a core part of the shopper's journey. Leverage all the technology and functionality available in these modern devices to improve the overall experience.
ABOUT THE AUTHOR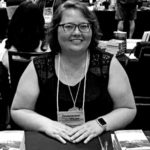 Kristina Knight is a freelance writer with more than 15 years of experience writing on varied topics. Kristina's focus for the past 10 years has been the small business, online marketing, and banking sectors, however, she keeps things interesting by writing about her experiences as an adoptive mom, parenting, and education issues. Kristina's work has appeared with BizReport.com, NBC News, Soaps.com, DisasterNewsNetwork, and many more publications.