IAB: 2016 Internet ad spend breaks records
The report (.pdf), prepared by PwC US, shows that a record-breaking $72.5 billion was spent on Internet advertising last year, a 22% rise from the $59.6 billion spent in 2015.
Mobile's share rose 77% YoY last year to reach $36.6 billion.
"Mobile fueled the internet economy in 2016, with advertisers showing their confidence in digital to achieve their marketing goals," said Randall Rothenberg, President and CEO, IAB. "This increasing commitment is a reflection of brands' ongoing marketing shift from 'mobile-first' to 'mobile-only' in order to keep pace with today's on-the-go consumers."
A record $9.1 billion was spent on digital video last year – up 53% on 2015 and mobile video rose significantly, up 145% YoY to nearly $4.2 billion. Nearly half (46%) of video ads were displayed on a mobile device in 2016, up from 29% in 2015.
"Digital video's powerful ability to attract engaged audiences is naturally attracting greater investments," said David Doty, Executive Vice President and CMO, IAB. "Next week's NewFronts presentations will showcase the latest in original digital video content, certain to spark even greater interest from marketers and media buyers."
Since 2004, when the IAB began publishing digital ad spend, it has never overtaken television in the US. However, the latest report shows that while television accounted for $71.3 billion in domestic revenues last year, that was lower than digital advertising's $72.5 billion.
TV captured roughly $71.3 billion in domestic revenues in 2016, according to eMarketer, just under digital advertising's $72.5 billion in the IAB's digital ad revenue report.
Other findings of the report include:
– Retail represented 21.3% of Internet ad spend in 2016 and, along with financial services (13.3%) and automotive (12.5%) continues to have the largest category share.
– Spend on social media advertising rose 50% YoY to $16.3 billion;
– Digital audio generated $1.1 billion revenues in 2016.
ABOUT THE AUTHOR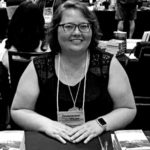 Kristina Knight is a freelance writer based in Ohio, United States. She began her career in radio and television broadcasting, focusing her energies on health and business reporting. After six years in the industry, Kristina branched out on her own. Since 2001, her articles have appeared in Family Delegate, Credit Union Business, FaithandValues.com and with Threshold Media.