Ad Roundup: Releases focus on contact
First, SugarCRM has added new features, including support for Apple Touch ID, mobile customization, and Enterprise Mobile Management to their Sugar Mobile platform.
"The CRM industry is still at an early stage for comprehensive mobile solutions," said Rich Green, chief product officer at SugarCRM. "At SugarCRM, where we are driven by a 'mobile first' strategy, we expect to see entire sales teams access CRM strictly on mobile. With that in mind, SugarCRM continues to push the envelope with mobile technology and we've made a number of significant enhancements to our mobile offering to take it from 'CRM you take with you' to an indispensable tool that never leaves your side."
And, Protagonist has launched The Protagonist Platform; the new digital offering is set up to help marketers better measure the impact of their content. The platform uses machine learning to analyze narrative and strategy, and then offers solutions to improve performance.
"For the past ten years, Protagonist has rigorously observed and analyzed the way that beliefs function in the world, and we were never content with the inherent biases and limits of scope in traditional market research," said Aaron Harms, EVP of Product and Technology at Protagonist. "Over the last two years, we've been building a platform that combines that expertise with the explosion of technical innovation, such as natural language processing and machine learning happening at the same time. The Protagonist Platform is the final product of that synthesis."
Meanwhile, LinkedIn has launched Lead Gen Forms, a tool to simplify how marketers use contact forms in Sponsored Content campaigns.
"Lead Gen Forms make it easy to collect leads from the nearly 500 million professionals, influencers, and business decision-makers who use LinkedIn. When members click on one of your ads, their LinkedIn profile information automatically populates an in-app form that they can submit instantly — without having to type in their info by hand," writes the company.
ABOUT THE AUTHOR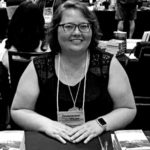 Kristina Knight is a freelance writer based in Ohio, United States. She began her career in radio and television broadcasting, focusing her energies on health and business reporting. After six years in the industry, Kristina branched out on her own. Since 2001, her articles have appeared in Family Delegate, Credit Union Business, FaithandValues.com and with Threshold Media.