Survey: People aren't talking politics at work
Women are more likely than men to be fed up with the political debate, and about half say they are spending less than an hour each week reading political news. Most (83%) say they don't feel as if all the political news has made them less productive at work; that could be because nearly half (47%) have set personal time limits for reading/engaging with political news.
"The 2016 election and subsequent new administration has ushered in an avalanche of political coverage, and we were interested to see if this was becoming a distraction at work, or if the average worker preferred to leave politics at the office door and separate personal beliefs from their work persona. It's interesting–but not altogether unexpected–to learn that 65% of business professionals have political news fatigue and would rather not deal with it at work," said Scott Marden, CMO, Captivate Networks.
Other interesting findings from the report include:
• 71% of Baby Boomers say they're 'sick of' hearing about political news
• 16% of business professionals have unfriended co-workers on social media because of political postings
• 79% say 'they never' agree with co-workers political stances to avoid workplace disagreements
Researchers surveyed nearly 500 professional workers to come to their results.
ABOUT THE AUTHOR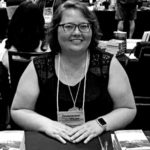 Kristina Knight is a freelance writer based in Ohio, United States. She began her career in radio and television broadcasting, focusing her energies on health and business reporting. After six years in the industry, Kristina branched out on her own. Since 2001, her articles have appeared in Family Delegate, Credit Union Business, FaithandValues.com and with Threshold Media.