Security of personal data remains key concern among consumers
New research conducted among more than 24,000 consumers across 12 countries by Opinium Research for Verint Systems found that nearly all (89%) of consumers believe it is important to be aware of how secure their personal data is and almost as many (86%) believe it is important to know if their data is likely to be shared with third parties for marketing purposes.
However, the findings, which form part of a wider report titled 'The Digital Tipping Point: How Do Organizations Balance the Demands for Digital and Human Customer Service?' also point to the continued importance to consumers of personalized customer service (80%). Therein lies the challenge, says Verint.
In order to provide consumers with a personalized service, or marketing communications, it is necessary to collect, analyze and hold relevant customer data.
"Companies have a difficult balancing act to negotiate between security, transparency and a personalized experience," says Ryan Hollenbeck, Verint SVP global marketing and customer experience program executive sponsor. "It's something that organizations across all sectors have to get right or risk losing valuable customers. Today's brands must work to ensure greater transparency over the use of customer data and build trust and confidence in this increasingly challenging environment."
And, businesses agree. Ninety-four percent of 1,1019 businesses surveyed by Verint said it is important that their customers be reassured their data is secure and 96% understand they need to alert customers if their data is to be passed on to third parties.
"As a result," says Verint, "they will have to ensure these high standards are maintained, as one misstep with a customer's data can have disastrous effects."
ABOUT THE AUTHOR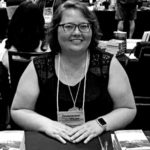 Kristina Knight is a freelance writer based in Ohio, United States. She began her career in radio and television broadcasting, focusing her energies on health and business reporting. After six years in the industry, Kristina branched out on her own. Since 2001, her articles have appeared in Family Delegate, Credit Union Business, FaithandValues.com and with Threshold Media.