Facebook native video performs 109% better than YouTube videos
Quintly's analysis of 167,000 Facebook profiles and more than 6 million posts during the second half of 2016 found that video content that is uploaded directly to Facebook accounts for a far larger share of all video posted.
A whopping 90% of the 167,000 Facebook profiles analyzed featured native video content, including Facebook Live videos, while just 30% of those profiles featured YouTube videos and 2% featured content from video-sharing website Vimeo.
When analyzing the more than 6 million posts, Facebook once again came out tops with 84% of overall video posts being Facebook native videos (5,070,593 video posts) compared to just 10% of video posts originating from YouTube.
Facebook also outperforms other video formats in terms of interactions such as comments, shares and reactions. Facebook native video performed just under 110% better than YouTube in overall interaction and just under a 478% higher share rate than YouTube videos.
"A crucial takeaway from this study is that Facebook native videos are the go-to video format on Facebook. Therefore, it is not really surprising that the numbers not only show that is the favorite type of video format across all profile groups, but also that using this format can be beneficial to increasing the amount of shares and overall interactions," writes Nils Herrmann on the Quintly blog.
"Especially through Facebook Live videos, Facebook users – consisting of private accounts and businesses – have the ability to directly engage with their audience by discussing topics in real-time," added Herrmann. "They also create through Facebook Live a more personal and more real experience – but not only the personal aspect is important in this case. The possibility to reach your audience in real-time is highly beneficial for the success of Facebook native videos in general."
ABOUT THE AUTHOR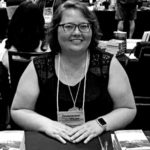 Kristina Knight is a freelance writer based in Ohio, United States. She began her career in radio and television broadcasting, focusing her energies on health and business reporting. After six years in the industry, Kristina branched out on her own. Since 2001, her articles have appeared in Family Delegate, Credit Union Business, FaithandValues.com and with Threshold Media.