Supermarkets are not making friends on social
The report reveals that the social media sites most frequented by supermarket shoppers include Facebook (89%), YouTube (53%) Twitter (30%), Pinterest (29%) and Instagram (28%).
However, while 87% of supermarket shoppers regularly follow one or more of those social media sites, just 25% said they are friends with, or connected to, their primary grocery store.
Instead, more than half (56%) of supermarket shoppers interact with their primary grocery store at moments when they are actively seeking information from the brand such as checking digital circulars (65%), researching special promotions (48%) and putting together a shopping list (46%).
"Closing the social media gap presents a real opportunity as many shoppers will change their behavior based on recommendations from their social network," said Brian Numainville, Retail Feedback Group Principal. "For example, our research shows that 45% of supermarket shoppers are very willing to make a new recipe or meal and 32% are very willing to purchase a new food item based on social network suggestions."
In addition, with many marketers increasing their use of video, this format could be used to great effect when attracting grocery shoppers, as can offering via social all those elements they seek out at the point of going shopping – such as discounts and coupons.
What is also evident from the report is that retailers must better communicate the digital tools they offer. Forty-four percent of shoppers said they were not sure whether their primary grocery store had a mobile app or mobile-friendly website.
ABOUT THE AUTHOR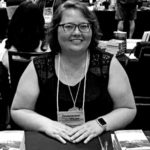 Kristina Knight is a freelance writer based in Ohio, United States. She began her career in radio and television broadcasting, focusing her energies on health and business reporting. After six years in the industry, Kristina branched out on her own. Since 2001, her articles have appeared in Family Delegate, Credit Union Business, FaithandValues.com and with Threshold Media.