Brexit, Trump leave marketers skittish about targeting
New research from digital agency Greenlight reveals how Brexit and the U.S. presidential have shaken up, not just the world at large, but marketers' confidence that they know their audiences.
Two-thirds (66%) of marketers said they now doubt how well they know their audience in light of the two populist wins. To that end, nearly all (94%) said they intend to invest time and money into finding out exactly what their audiences are looking for.
"The events of last year may have come as surprise for many people," said Andreas Pouros, COO and co-founder of Greenlight. "However with marketers possessing greater access to audience data and insights than ever before, developing a deeper understanding of target audiences is fast becoming a top priority."
The events of last year have also made marketers skittish. Just 19% now feel comfortable targeting audiences based on ethnicity, dropping to 17% for sexuality and 13% for religious beliefs. A third (33%) of marketers said they want to avoid alienating people. To this end, 81% said they would continue to use traditional demographics relating to age and location, but felt that targeting consumers based on ethnicity, sexuality or religious beliefs is "a step too far".
"As this year progresses, the ever-turbulent political agenda will continue to keep everyone on their toes, so marketers should consistently collect the necessary data insights and information on their customer," said Pouros.
ABOUT THE AUTHOR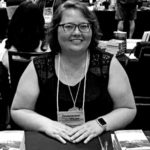 Kristina Knight is a freelance writer based in Ohio, United States. She began her career in radio and television broadcasting, focusing her energies on health and business reporting. After six years in the industry, Kristina branched out on her own. Since 2001, her articles have appeared in Family Delegate, Credit Union Business, FaithandValues.com and with Threshold Media.