Expert: Challenges brands must address for video, VR success
Kristina: Do you think the shift towards live video and VR will inevitably make traditional online videos obsolete?
Brian Shin, Founder & CEO, Visible Measures: Live video, 360 video and VR are all triggers for creating more video content. Online video will end up being a "universal video" experience where content produced from many different sources are experienced in a single environment optimized for the device/form factor being used. Think of many inputs feeding into a single switch that knows how to deliver what you want in the best format for you.
Kristina: In your opinion, what will be the biggest video trend this year?
Brian: Online video is rapidly expanding, which is why media spend for online video advertising is expected to reach $15B by 2019, growing from about $10B in 2016, and this huge increase in ad budgets will be driven largely by mobile, social innovation, live video and VR. While this presents a tremendous opportunity for marketers, a lack of standardized metrics, or clear ways of determining ROI for video advertising often leaves brands wondering if they're getting the most out of their investments. The video view is becoming a multi-billion dollar ad model, but nearly all major platforms count views differently. So I think that 2017 will see a huge shift toward brands thinking not of ad metrics, or video views, but of ad "attention" and ROI, with ad attention representing a combination of reach and engagement.
Kristina: Specific to VR, what challenges must be addressed by brands?
Brian: We can expect user demand to increase and content created specifically for this format to follow. Recently introduced devices such as Playstation VR and Google's Daydream will only help. Personally, I believe that VR will become extremely popular for some core use-cases but will not in the near term become the dominant computing interface. That said, with the increase in demand, content creators are going to have to rethink how they present stories and advertise products to users.
ABOUT THE AUTHOR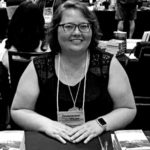 Kristina Knight is a freelance writer based in Ohio, United States. She began her career in radio and television broadcasting, focusing her energies on health and business reporting. After six years in the industry, Kristina branched out on her own. Since 2001, her articles have appeared in Family Delegate, Credit Union Business, FaithandValues.com and with Threshold Media.