Ad Roundup: 3 releases launching in digital
First, myVR is launching a portal specifically for brands and marketers to engage with consumers using VR devices. The offering touts interactive, personalized hub rooms and ways to share online content. It is available for both iOS and Android devices.
"Brands have always jumped on board as new mediums mature and attract larger audiences – from Facebook and the Web, all the way back to the introduction of television and radio," said Artem Fedyaev, CEO of myWebRoom and creator of myVR. "By opening the rapidly growing myVR platform to brands, companies now have an easy way to directly interact with their audiences and grow their user-bases in virtual reality."
Meanwhile, Gameloft and AerServ are partnering on the Gameloft Advertising Solutions platform; AerServ will serve as a monetization partner for the in-app ad units.
"Gameloft is a tremendous brand, and we're thrilled to be working with them to help the company achieve its monetization goals," said Josh Speyer, CEO of AerServ.
"We develop best-in-class games for consumers, and want to ensure the best possible advertising experience for them as well. We're pleased to partner with a company like AerServ who shares the same values, and we're extremely pleased with the results of our partnership thus far," said Guilherme Lachaut, Managing Director North America of Gameloft.
And 1010data is joining the Nielsen Connected Partner Program; the move will allow Nielsen Connected users to integrate 1010data with Nielsen Partner data and other data sources within the same platform.
"Joining the Nielsen Connected Partner Program lets 1010data clients easily leverage Nielsen's deep and broad shopping data by instantly enabling it to be blended with their existing data that already resides on 1010data's Insight Platform," said Sandy Steier, 1010data CEO and co-founder. "The joint solutions give retailers and manufacturers the ability to unify their data across all sources and gain new, strategic ways to understand their customers and markets."
ABOUT THE AUTHOR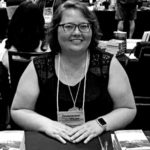 Kristina Knight is a freelance writer based in Ohio, United States. She began her career in radio and television broadcasting, focusing her energies on health and business reporting. After six years in the industry, Kristina branched out on her own. Since 2001, her articles have appeared in Family Delegate, Credit Union Business, FaithandValues.com and with Threshold Media.