98% of Generation Z shop in-store, but challenges ahead for retailers
Generation Z is expected to reach 2.6 billion by 2020 and, despite their digital-first mentality, they still enjoy shopping in physical stores.
However, challenges still present themselves to retailers, as identified in a new study by IBM and the National Retail Federation (NRF). According to the report, 'Uniquely Gen Z', Generation Z expect personalized, interactive experiences and the latest digital advances. Retailers that do not keep up with such innovations risk being left behind.
Nearly three-quarters (74%) of Generation Z spend their free time online, with 25% online five hours or more each day. It's little surprise, then, the degree to which in-store sales are influenced by digital.
Generation Z likes to engage with brands online, especially with those that create an interactive environment where customers can shape their own experience, and the same goes for their in-store experience. Retailers that develop and engage in such practices will be able to capture Generation Z's penchant for generating ideas for new products, services, engagement and shopping experiences. This generation is known to be brand champions both online and offline, especially when brands acknowledge and value their opinions.
"Just as Millennials overtook Gen X, there's another big buying group retailers need to plan for, and it's even larger: Generation Z. They appreciate the hands-on experience of shopping in a store," said NRF CEO Matt Shay. "With technology constantly evolving but some shopping habits remaining the same, retailers need to be agile enough to serve both needs. Retailers are constantly focused on experimenting with new innovations both online and in-store to remain relevant to evolving consumer demand."
ABOUT THE AUTHOR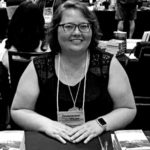 Kristina Knight is a freelance writer with more than 15 years of experience writing on varied topics. Kristina's focus for the past 10 years has been the small business, online marketing, and banking sectors, however, she keeps things interesting by writing about her experiences as an adoptive mom, parenting, and education issues. Kristina's work has appeared with BizReport.com, NBC News, Soaps.com, DisasterNewsNetwork, and many more publications.