Mums rely on mobile for holiday shopping
In their survey of mums in the U.S. and U.K., Sharethrough found that 70% use their mobile device as their primary shopping research tool.
"Smartphones are used widely for purchasing as well as research, but they have slightly less penetration as a point of sale tool," says Sharethrough's report. "Almost half (48%) of Moms expected it to be their primary device for holiday buying. Comfort levels here vary wildly by age: 62% for Moms under the age of 35 use it for purchasing, in comparison with just 33% for Moms over the age of 35."
Online content is where the majority of mums find inspiration. Eighty-seven percent said they gift ideas were influenced by in-depth product reviews, 79% were influenced by personal testimonials, 74% by product articles and 67% by published guides or lists.
It is online, too, rather than television, where gift ideas and inspiration for holiday menus are found. While more than half (58%) of mums turn to food blogs or websites for new recipe ideas, just 31% relied on television for inspiration.
In terms of advertising formats that influence mums, in-feed native video (53%) and sponsored recipes (66%) were more influential than pre-roll (50%) or in-article videos (33%). Native ad headlines drove 39% of mums to search for a brand online and more than half (54%) said they click on native ads because they are relevant.
"Our new mums research into their holiday planning habits, clearly shows that digital content plays an incredibly important role," said Ally Stuart, strategy director at Sharethrough. "When planning for their Christmas dinner and looking for presents, our mums rely heavily on their mobiles to keep on top of things at the holidays, making it more important than ever that brands understand the intimate nature of the channel. Stressed mums don't want to be interrupted by intrusive advertising, they need contextual and inspiring content in order to make their purchase decisions."
ABOUT THE AUTHOR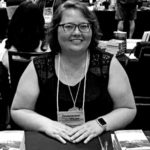 Kristina Knight is a freelance writer based in Ohio, United States. She began her career in radio and television broadcasting, focusing her energies on health and business reporting. After six years in the industry, Kristina branched out on her own. Since 2001, her articles have appeared in Family Delegate, Credit Union Business, FaithandValues.com and with Threshold Media.