Majority of UK retailers claim Black Friday "unprofitable" and "unsustainable"
According to LCP Consulting's 'Future of Retail' report, which questioned more than 100 retailers in the US and UK, there are differing views on either side of the Atlantic as to whether Black Friday is profitable.
Sixty-one percent of retailers in the UK believe Black Friday is unprofitable and unsustainable (up from 32% in 2015), while just 32% in the US agreed.
"The majority of UK retailers claim that Black Friday is margin erosive and unprofitable," said Stuart Higgins, retail partner at LCP Consulting. "The key question for 2016 is how many more retailers will follow Asda's lead from 2015 and shun Black Friday involvement in favor of deeper promotions across December, or will perceived competitive pressure lead many to continue to drive Black Friday sales despite the prospect of short term losses and the potential for service disruption?"
A key challenge for retailers, both logistically and financially, is the sheer number of returns following the five-day Black Friday period. According to LCP Consulting's analysis, 5 million parcels purchased on Black Friday will be returned, 50% more than usual.
Furthermore, Black Friday shoppers expect quick delivery of their purchases and LCP Consulting forecasts that next-day deliveries will be 20% higher than last year and next-day click and collect will also see a big rise, despite only half of consumers actually picking up their click and collect orders the next day.
"The true profit impact of Black Friday is not driven by sales increases and gross margin; it is driven by the additional operating cost and the complexity of managing operational peaks," said Higgins. "Managing picking and packing volumes is one thing, but you also need to have contingency in place to ensure delivery against service promises – no matter what the eventuality. Retailers must also manage the processing of returns in a timely manner to credit the customer, and to get the merchandise back on sale to avoid the risk of having to mark down."
ABOUT THE AUTHOR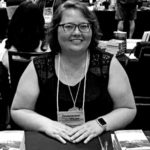 Kristina Knight is a freelance writer based in Ohio, United States. She began her career in radio and television broadcasting, focusing her energies on health and business reporting. After six years in the industry, Kristina branched out on her own. Since 2001, her articles have appeared in Family Delegate, Credit Union Business, FaithandValues.com and with Threshold Media.