GoDaddy highlights best practices for holiday emails
Experts have come up with a name for November 2 – it's Headstart Day, and according to data it's the day consumers are most likely to open holiday-based marketing emails. GoDaddy experts found emails sent today have a 16% higher open rate compared to average opens through November and December. Open rates for November 2, 2015 were more than 38% higher than open rates on Black Friday.
"The holidays are a key time for small businesses to engage with their customers, and for the best results, start early. Black Friday and Cyber Monday might seem like the perfect days to send promotional emails, but small businesses should proceed with caution," says Eric Gilbert, director of GoDaddy Email Marketing. "With higher sending volume comes lower email open rates. Our advice to our customers is twofold. First, get a head start on your holiday campaigns by sending before the peak shopping days arrive. And second, be sure to write crisp, compelling subject lines to help stand out in the inbox."
Other interesting findings from their data include:
• 46% of GoDaddy Email Marketing emails are now opened on mobile devices
• Cyber Monday shows twice the number of email sends than other days
• The lowest email open days were Thanksgiving Day, Black Friday and Boxing Day (2015)
GoDaddy's experts suggest that SMBs stay away from sending marketing messages on Election Day (November 8), as many shoppers will be distracted by the election, and they also suggest not putting too much emphasis on Cyber Monday because shoppers are already inundated with emails from retailers and brands.
Perhaps most important, though, is the mobile news – with nearly half of GoDaddy Email Marketing emails being opened on mobile devices, it is important that brands focus on short, engaging subject lines, and that they ensure emails are mobile friendly.
ABOUT THE AUTHOR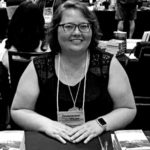 Kristina Knight is a freelance writer based in Ohio, United States. She began her career in radio and television broadcasting, focusing her energies on health and business reporting. After six years in the industry, Kristina branched out on her own. Since 2001, her articles have appeared in Family Delegate, Credit Union Business, FaithandValues.com and with Threshold Media.