75% of consumer sharing happens on dark social
RadiumOne's new report, 'The Power of Sharing', is based on massive volumes of information – 1.5 billion viewed events and more than 10.5 million shares and clicks over 30 days.
The report highlights just how important behavior such as sharing brand content with friends and family, or even sharing with themselves (self-sharing), while often invisible actions to brands, can be used to predict consumer behavior or their progress through the purchase cycle.
"Taking advantage of consumer sharing behaviors has thus far been a widely untapped resource by marketers," said Bill Lonergan, CEO at RadiumOne.
RadiumOne's report reveals that consumers that share brand content online are 9x more likely to purchase, while those who share content with themselves are 1.7x more likely to make a purchase. Self-sharing includes texting oneself a link or review as a reminder to make a future purchase, emailing a video to themselves as a reminder to watch later or perhaps following a social media post so it doesn't get lost in their newsfeed.
Furthermore, RadiumOne says that sharing activity can be relied upon as "bots don't share", so the activity is unlikely to be fraudulent.
Finally, without using sharing analytics tools, marketers are likely to miss opportunities to track dark social consumer sharing which account for a whopping 75% of consumer sharing online. According to RadiumOne, "websites, pictures and other information is shared with selected individuals for a reason, rather than an entire community via public social networks".
ABOUT THE AUTHOR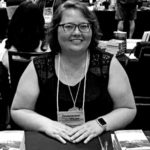 Kristina Knight is a freelance writer with more than 15 years of experience writing on varied topics. Kristina's focus for the past 10 years has been the small business, online marketing, and banking sectors, however, she keeps things interesting by writing about her experiences as an adoptive mom, parenting, and education issues. Kristina's work has appeared with BizReport.com, NBC News, Soaps.com, DisasterNewsNetwork, and many more publications.