4 ways brands can improve SMS strategy
Chat bots + SMS
"The chemistry between these two mobile engagement strategies just makes sense–and so does their technologies. For companies looking to extend their existing text notifications with simpler engagements with target consumers of all ages, the integration of customer friendly chatbot technology with the convenience and speed of SMS text messaging, make for a natural match in mobile customer experience nirvana. This is a pairing that we'll really see catch fire in 2017," said Tim Fujita-Yuhas, Director of Product Management and New Product Strategy, OpenMarket.
Talk Is Cheap
"For companies looking to connect with millennials–levering their smartphone is the obvious answer, but not in the traditional sense of proactive cold calls and voicemail messages. In fact, forget talking altogether next year. Instead, try reaching millennials via texting: their preferred communication channel. According to recent survey data on millennial preferences for business communications, texting is the number one channel to receive notifications from business. This includes everything from appointment reminders to delivery notifications and payment reminders," said Fujita-Yuhas.
Text Beats Tweets
"Consumers have expressed their preferences about mobile messaging, and SMS will reign king in 2017–even over such media darlings as Facebook Messenger. While the introduction of social network-based messaging apps caused a buzz in the media when first unveiled, the technology failed to catch fire with consumers. Turns out, they're better left to their networking roots and personal connections. Social apps have also failed at being a channel consumers want to engage with businesses on. Even traditional postal mail ranked high with consumers over Facebook and Twitter when it comes to receiving business notifications. The key point – businesses can reach all of their mobile phone customers via texting; the same can't be said for all of these other social media channels," said Fujita-Yuhas.
The Future Is SMS
"By 2025, 50 percent of the text messages consumers receive will be from their preferred businesses. This is due to the reach of SMS on all handsets, customer preferences, and the rapid read and response rates of texting. As we head into 2017, 2025 may seem far out, or at least far out of mind. But the reality is, with text messaging currently growing at the rate it is and showing no signs of slowing down thanks to its continued adaptation to new technologies and ongoing relevance, the idea that businesses will be overtaking the SMS inbox isn't far fetched," said Fujita-Yuhas.
ABOUT THE AUTHOR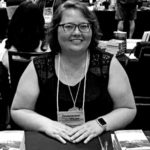 Kristina Knight is a freelance writer with more than 15 years of experience writing on varied topics. Kristina's focus for the past 10 years has been the small business, online marketing, and banking sectors, however, she keeps things interesting by writing about her experiences as an adoptive mom, parenting, and education issues. Kristina's work has appeared with BizReport.com, NBC News, Soaps.com, DisasterNewsNetwork, and many more publications.