UK government warns not enough being done to prepare for A.I. future
While some consumers are looking forward to the improvements artificial intelligence can bring to their day-to-day lives, some of the UK's leading MPs are concerned that the technology could bring about major changes for which the country is not prepared.
A group of 10 MPs in the UK that make up the Science and Technology Select Committee have issued a warning in its report, 'Robotics and artificial intelligence', that not enough is being to do prepare for the social and ethical issues that will arise from robotics and artificial intelligence.
"Artificial intelligence has some way to go before we see systems and robots as portrayed in the creative arts such as Star Wars," said Dr. Tania Mathias, interim chair of the Committee and a Conservative MP. "But science fiction is slowly becoming science fact, and robotics and AI look destined to play an increasing role in our lives over the coming decades."
The Committee wants "careful scrutiny of the ethical, legal and societal dimensions" of such technology to begin now to ensure the UK focuses on "socially beneficial" systems to foster public trust and dialogue.
"Concerns about machines 'taking jobs' and eliminating the need for human labor have persisted for centuries," said Mathias. "Nevertheless it is conceivable that we will see AI technology creating new jobs over the coming decades while at the same time displacing others."
It is being recommended that the government establishes a standing Commission on Artificial Intelligence aimed at "identifying principles to govern the development and application of AI".
"While the UK is world-leading when it comes to considering the implications of AI, and is well-placed to provide global intellectual leadership on this matter, a coordinated approach is required to harness this expertise," says the Committee in its report summary.
ABOUT THE AUTHOR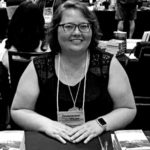 Kristina Knight is a freelance writer with more than 15 years of experience writing on varied topics. Kristina's focus for the past 10 years has been the small business, online marketing, and banking sectors, however, she keeps things interesting by writing about her experiences as an adoptive mom, parenting, and education issues. Kristina's work has appeared with BizReport.com, NBC News, Soaps.com, DisasterNewsNetwork, and many more publications.