Top 3 tips for a strong programmatic creative strategy
Kristina: What is programmatic creative?
Victor Wong, CEO, Thunder: Programmatic creative is matching creative messaging to programmatic targeting. Machine-assisted creative execution enables scalable creative versioning so that a human can strategize and then build the right message for the right time for the right audience.
Kristina: How can brands automate their creative processes without losing the connection with the consumer?
Victor: Brands can't fully automate creativity but they can automate what can be automated — mainly resizing, formatting, and versioning. In the programmatic age, you can learn more about your consumer, their profile, and their journey to purchase. As a result, you need to activate all that data by developing unique creatives to that consumer profile for different points in time. Creative management platforms enable brands to develop creative segments for these audience segments by reducing the amount of work and complexity that goes into making so many versions for different audiences, different channels, and different regions.
Kristina: What are your top 3 tips for implementing a programmatic strategy?
Victor: Walk before you run Before you start doing A/B testing, make sure you even have unique creatives specific to targeted audiences. Then you can layer on complexities like which creative works best for which audience and then layer on things like messaging sequencing and channel testing.
Develop a creative messaging matrix based on lining up who your customer segments are with what parts of the customer journey you can track and seek to influence. Fill in the intersections between customer segment and customer stage with unique messaging.
Build a cross-channel strategy for other programmatic channels like social. Programmatic marketing isn't restricted to display. Your data can be used in any number of programmatic channels.
ABOUT THE AUTHOR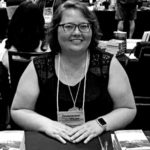 Kristina Knight is a freelance writer with more than 15 years of experience writing on varied topics. Kristina's focus for the past 10 years has been the small business, online marketing, and banking sectors, however, she keeps things interesting by writing about her experiences as an adoptive mom, parenting, and education issues. Kristina's work has appeared with BizReport.com, NBC News, Soaps.com, DisasterNewsNetwork, and many more publications.