Time is running out for cold, hard cash
As global access to smartphones, the Internet, as well as new digital payment systems, improves, 1.2 billion more people will be able to participate in the connected economy and enjoy basic financial services for the first time.
The Demand Institute, a non-profit think-tank operated by Nielsen and The Conference Board, predicts that the improved access will generate an additional $10 trillion in consumer spending over the next ten years, including $170 billion in China alone.
"What happens when a consumer accesses the internet is similar to what happens when a baby starts to walk – a whole world of exploration opens up including new shopping patterns," said Louise Keely, president of The Demand Institute. "However, alongside the long-underserved developing economies, the proliferation of cashless payment services will also benefit those in advanced markets as new competitors and business models dive in to meet the needs of every imaginable consumer use-case."
The report also highlights that, due to security concerns over cash transactions, the number of cashless payments will rise. In fact, among consumers in emerging and middle-income economies, cashless payments have reached a tipping point for this very reason.
Earlier this year a survey in the UK by Starcom found that almost three-quarters of the population expect cash to have gone out of fashion in five years' time. The idea of a cashless society appears to be a more comfortable prospect for men (52%) than women (39%) and those under the age of 35 are more relaxed about the idea (67%) compared to those over the age of 55 (50%).
But, it seems, the fate of cash will be a gradual affair. Most survey respondents think that the one pence coin will be the first to disappear, followed by the 2 pence coin and the fifty-pound note.
ABOUT THE AUTHOR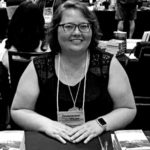 Kristina Knight is a freelance writer with more than 15 years of experience writing on varied topics. Kristina's focus for the past 10 years has been the small business, online marketing, and banking sectors, however, she keeps things interesting by writing about her experiences as an adoptive mom, parenting, and education issues. Kristina's work has appeared with BizReport.com, NBC News, Soaps.com, DisasterNewsNetwork, and many more publications.