Mobile search precedes in-store purchases
The study of 1,000 smartphone users, which resulted in more than 14,000 responses, found that 96% of consumers use their phone to conduct day to day tasks. The most-used resource on mobile was found to be mobile search (87%) which is often the first place people go.
Indeed, using a search engine was the most common activity undertaken before making a purchase, found the survey, with 30% doing so. However, the same amount of people said the first activity conducted before making a purchase was to visit a store, or other location. Both activities come before visiting a retailer website or app (24%), visiting another website or app (14%) or using a map (13%).
The research also found that 70% of mobile users who made a purchase in a store had first checked their smartphone for information related to that purchase. But, not all mobile activity takes place so soon before a purchase with 68% searching on their smartphone for future purchases. However, nearly two-thirds (65%) used a mobile device in the moment they wanted to make a purchase.
"Consumer expectations for immediacy and relevance are higher than ever, and successful brands are those that connect with people in the moments that matter most to them – the I-want-to-know, I-want-to-go, I-want-to-do, and I-want-to-buy moments," said Lisa Gevelber, vice president of marketing at Google, Americas.
"Mobile search, in particular, helps marketers meet the higher expectations that consumers demand. It's with search that marketers can be there right when a consumer is looking for something to buy, somewhere to go or information to help them make a decision."
ABOUT THE AUTHOR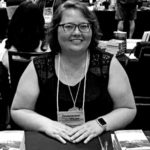 Kristina Knight is a freelance writer with more than 15 years of experience writing on varied topics. Kristina's focus for the past 10 years has been the small business, online marketing, and banking sectors, however, she keeps things interesting by writing about her experiences as an adoptive mom, parenting, and education issues. Kristina's work has appeared with BizReport.com, NBC News, Soaps.com, DisasterNewsNetwork, and many more publications.