Expert: How 2nd party data can help businesses
Kristina: We hear a lot about first party data, but not as much about second-party. Can you briefly explain the differences?
Steve Ustaris, CMO, ownerIQ: First-party data is your own data. It is information that you collect and organizes on your customers, or prospects, to be leveraged for marketing executions, e.g.- cookies for ad targeting, email addresses for outbound marketing, sales data for reporting and insights, etc.
"Second-party data" is simply another marketer or brand's first-party data. The practice of using "second-party" data is defined as one brand (product, retailer, publisher, etc.) directly and transparently accessing another brand's first-party data, and leveraging it in their own marketing executions.
Kristina: What are the benefits of second-party data?
Steve: Second-party data is seen as having a lot of the "goodness" of first-party data and third-party data, without a lot of the limitations. For example, first-party data is highly transparent, highly relevant, but not scalable. Your retargeting pool is only so big, your lead gen file only so large, etc. Then there is third-party data. There is an abundance of market segments available via third-party aggregators, but their lack of data transparency negatively affects relevancy and targeting accuracy. For example: an advertiser recently told me that they could buy a targeting segment from a third-party provider that could reach 40 million "luxury auto intenders" in the US. I told them that only 17 million cars in total were sold in the US last year, so someone's clearly taking liberties with their audience definitions.
Kristina: Is second party data scalable?
Steve: Second-party data is scalable. In theory, the potential pool of second-party data is equal to the amount of other people's first-party data. It' just a matter of meeting the owner of the data's price, or compensation requirements, and terms & conditions for usage of it. In addition, second-party data is transparent. This is a key feature. Transparency of data means the marketer can determine how relevant a set of data is to their particular target, versus having a third-party interpret. So rather than using the "luxury auto intenders" segment, you could potentially negotiate to directly use only Kelly Bluebook's data, and maybe further narrow to the cookies on the browsers that have viewed luxury autos on the site. Or, maybe if you're really creative you can negotiate a deal with Mercedes, or BMW to leverage their data directly.
ABOUT THE AUTHOR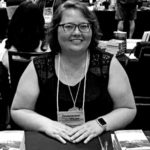 Kristina Knight is a freelance writer with more than 15 years of experience writing on varied topics. Kristina's focus for the past 10 years has been the small business, online marketing, and banking sectors, however, she keeps things interesting by writing about her experiences as an adoptive mom, parenting, and education issues. Kristina's work has appeared with BizReport.com, NBC News, Soaps.com, DisasterNewsNetwork, and many more publications.