Too much promotion, not enough engagement, annoys consumers on social
While it is true that many consumers follow brands on social media because they are keen to be kept abreast of promotions, too much promotion and too little engagement could lead many to click the unfollow button, says Sprout Social.
The motivation for 73% of consumers to like a brand on social media begins with being interested in that brand's products or services. Following on from that, more than half (57%) of consumers are more likely to purchase from a brand they follow on social media, and three-quarters have made a purchase after being exposed to a product on social media. The fact that social media plays a significant role in consumers' path to purchase is not in question.
But, getting the tone right is equally as important, along with a balance of engagement and promotion. While more than half (58%) of a brand's followers are looking for deals and promotions, or incentives (42%), those tactics alone will not encourage them to stick around.
According to Sprout Social there is "a fine line between brands being informational and annoying" – 46% of consumers said they would unfollow a brand if they posted too many promotions so it's vital that brands' social media posts also contain content that means something to the audience.
"Expand your tactics and be sure you're diversifying your social content strategy," advises the firm in their Q3 2016 Sprout Social Index. "Whether that's through curating thoughtful third-party content, sharing more user-generated content, participating in co-marketing opportunities or engaging your communities with interactive quizzes and contests."
Additional findings from the report include:
– 38% of consumers find the use of slang and jargon in a brand's social media posts annoying;
– Almost as annoying is a brand account that has no personality (35%) or a brand trying to be funny when they are not (32%);
– 25% follow a brand so they can have a two-way dialogue;
– Government, banking/finance, and marketing/advertising were found to be the top 3 annoying industries on social media.
ABOUT THE AUTHOR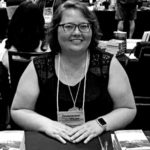 Kristina Knight is a freelance writer based in Ohio, United States. She began her career in radio and television broadcasting, focusing her energies on health and business reporting. After six years in the industry, Kristina branched out on her own. Since 2001, her articles have appeared in Family Delegate, Credit Union Business, FaithandValues.com and with Threshold Media.