Expert: What digital challenges mean for small business
Kristina: Many people think the digital age has made it simpler to start a business. Do you agree?
Jack Berlin, CEO, Accusoft: SMB owners must know how to properly use Google and improve their SEO in order to increase their PageRank. Because SMBs need to fully understand Google's ever-changing algorithms, if they do not know how to use it correctly their search-ability may suffer. In starting a new business, there are advantages and disadvantages. But the digital age has made starting a business a more realistic possibility for younger people because they can build a website, keep social media engaging and navigate the latest digital marketing tool. Starting a business in the digital age favors the tech savvy entrepreneur, regardless of age.
Kristina: What do these new challenges mean for SMB owners?
Jack: The new challenges the digital age presents means SMB owners must dedicate time to digital marketing efforts. While this is one challenge, it's also a new opportunity to reach new business prospects and generate digital leads. But SMB owners can save money, compared to print and legacy marketing options, if they capitalize on the proper tools. Tools like MailChimp for email marketing, WordPress for website management, Sprout Social for social media management or edocr for document management and SEO rankings, can all improve a SMB owner's digital marketing efforts.
Kristina: How can SMB owners ensure they are ready for the additional chores that marketing and social media demand?
Jack: SMB owners should set aside time to update their online content. Ensuring that digital marketing and social media is part of their weekly plan, not an afterthought, will make the seemingly big task accomplishable. For many SMBs, everyday operations are top of mind, while marketing remains on the back burner. SMBs shouldn't underestimate the potential of online marketing, even if it's just improving your Google PageRank, creating a blog, updating social media accounts or revamping web content. If SMB owners can't afford to hire a marketing specialist, they must set aside time.
ABOUT THE AUTHOR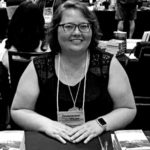 Kristina Knight is a freelance writer based in Ohio, United States. She began her career in radio and television broadcasting, focusing her energies on health and business reporting. After six years in the industry, Kristina branched out on her own. Since 2001, her articles have appeared in Family Delegate, Credit Union Business, FaithandValues.com and with Threshold Media.