83% of online shoppers abandon purchase at checkout
Optimizely's survey of more than 1,000 consumers in the UK reveals the impact of a bad online shopping experience to a brand's bottom line. More than a third (35%) are turned off of a brand by just one bad experience, so getting the user experience right is of paramount importance. Furthermore, there is a knock-on effect, with 39% saying that a bad online experience might also affect their likelihood of purchasing from that brand offline.
Around a third (35%) of people in the UK shop online on a weekly basis, spending an average of £70.78 per month. Most (72%) are driven by convenience. However, many (83%) are adding items to their online shopping basket, but not completing the purchase.
The main reason for this, found the research, is the addition of unexpected shipping costs (53%), or the requirement to set up an account or register to complete the purchase (27%). Hurdles like these can be avoided. Brands need to be more upfront and transparent earlier in the purchase process to avoid cart abandonment.
Other frustrations with online shopping include inadequate product information which leaves consumers puzzling over the quality or size of a product (43%), poor payment processes (33%), bad website design (26%) and poor site navigation tools (24%).
"It's clear that ecommerce businesses need to up their game when it comes to delivering an exceptional online shopping experience for their customers; if they don't, they risk losing these customers altogether," said Marie Despringhere, UK Country Manager, Optimizely. "The issue of basket abandonment also needs to be addressed, as falling short in the final stages of the customer journey quickly detracts from retailers achieving their ultimate goal: securing revenue. To get their consumers on side, retailers need to be transparent, with not only a clear path to purchase, but also ensure that the consumer is receiving the most optimal customer experience at every stage of the journey."
ABOUT THE AUTHOR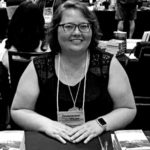 Kristina Knight is a freelance writer based in Ohio, United States. She began her career in radio and television broadcasting, focusing her energies on health and business reporting. After six years in the industry, Kristina branched out on her own. Since 2001, her articles have appeared in Family Delegate, Credit Union Business, FaithandValues.com and with Threshold Media.