Study: Email key for SMB trust
Say goodbye to personal email accounts doubling as business. That's the takeaway from new GoDaddy data which indicates consumers are more likely to trust a small business that has a domain-based email rather than the general servers that are used for personal emails.
"You never forget a first impression, either in real life or online. Often your first direct interaction with a customer takes place over email and so looking professional in this context is hugely important," said Steven Aldrich, Chief Product Officer at GoDaddy. "Using a professional email address that ends with your company's domain offers you an opportunity to build your brand every time you interact with a customer versus promoting an Internet email giant like Gmail, Yahoo and others."
Some interesting takeaways from the report include:
• 75% of consumers say having matching domain/email addresses 'is important' for businesses
• 33% doubt the legitimacy of sellers using personal email accounts
• 24% 'are hesitant' to give personal information to businesses using personal email accounts
"From the moment a consumer views your email address on a business card, your website, or in their inbox, they are immediately going to make judgments about your business, so don't fall into the trap of using a personal address that anyone could get. It detracts from the trustworthiness you're looking to convey," added Aldrich.
ABOUT THE AUTHOR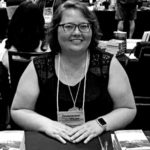 Kristina Knight is a freelance writer with more than 15 years of experience writing on varied topics. Kristina's focus for the past 10 years has been the small business, online marketing, and banking sectors, however, she keeps things interesting by writing about her experiences as an adoptive mom, parenting, and education issues. Kristina's work has appeared with BizReport.com, NBC News, Soaps.com, DisasterNewsNetwork, and many more publications.