Survey: Though ads influence, relevance is key
Researchers with Rapt Media found that only 5% of consumers say ads influence their purchase decisions, but nearly half (43%) also say online ads are not personalized – i.e. relevant – to them. Most surveyed (62%) also said they feel content they 'discover themselves' is more personalized to their interests.
"Programmatic push messaging is implicit personalization perceived by consumers as irrelevant and inauthentic," said Erika Trautman, founder and CEO of Rapt Media. "Explicit content personalization through choice and discovery builds trust, increases engagement, and delivers a truly valuable experience starting at the point of creation. Millennials, in particular, are embracing the value of content discovery, forcing marketers to rethink the way content is created, distributed and consumed. The only way to compete in an increasingly crowded market is by providing valuable content for consumers to discover on their own and building relationships through interaction and engagement."
Other interesting findings from the report include:
• 57% of Millennials block ad content because 'it is pushy'
• 61% say they prefer to discover even customized content
• 46% say self-discovered content 'influences' purchase decisions
ABOUT THE AUTHOR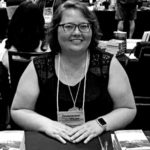 Kristina Knight is a freelance writer with more than 15 years of experience writing on varied topics. Kristina's focus for the past 10 years has been the small business, online marketing, and banking sectors, however, she keeps things interesting by writing about her experiences as an adoptive mom, parenting, and education issues. Kristina's work has appeared with BizReport.com, NBC News, Soaps.com, DisasterNewsNetwork, and many more publications.