Study: Micro-businesses need more help
Researchers found that most (93%) like the control of working for themselves, but that reaching a consistent income point remains a challenge (67%). Other interesting findings from the report include:
• 85% of micro businesses say they need better access to health care and loss of income
• 67% say inconsistent income is a problem
• 32% report establishing trust with contracting businesses is a challenge
• 31% report access to benefits, like health plans, are a challenge
"The punch line here is that work and income opportunities have evolved, but current programs designed for small businesses aren't serving the needs of the micro businesses, a rapidly growing category," said Greg Waldorf, CEO of Invoice2go. "Nearly 40 percent of our respondents left traditional work to strike out on their own, and we estimate more than 80 percent of all Invoice2go users have less than five workers, with plans to remain that way. At Invoice2go we are backing this type of entrepreneurial spirit. It is our hope that the government will begin to take note and to support the specific needs of the smallest of businesses."
According to the Association for Enterprise Opportunity, more than 90% of US businesses are made up of 5 or fewer people.
ABOUT THE AUTHOR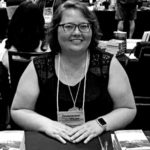 Kristina Knight is a freelance writer based in Ohio, United States. She began her career in radio and television broadcasting, focusing her energies on health and business reporting. After six years in the industry, Kristina branched out on her own. Since 2001, her articles have appeared in Family Delegate, Credit Union Business, FaithandValues.com and with Threshold Media.