Poll: SMBs worried over benefits, pay
"There are more than 28 million small businesses serving as the economic engine of our country, employing half of the private sector and creating two out of three net new jobs. If our small business sector was a country, its output would rank number three above Germany and Japan. I'm looking forward to welcoming these talented entrepreneurs to their nation's capital and celebrating their stories to shine a light on American ingenuity and innovation," said Maria Contreras-Sweet, the head of the U.S. Small Business Administration. Contreras-Sweet and the SBA will be on a tour of small businesses around the country, recognizing them for their efforts.
Meanwhile, Manta polled small business owners about employee benefits, and found that they are feeling the pinch – mostly from prospective employees – about benefits plans. According to the poll about 47% of potential employees put the pressure on about benefits. Employers are also feeling the pinch from their competitors' plans. Other interesting findings from the poll include:
• 72% of SMBs offer paid vacation, the most common benefit
• 57% offer paid sick leave
• 58% of SMB owners say they offer flex time benefits
• 46% offer remote work options
And, with California and New York passing new $15/hour minimum wages, SMB owners across the country are wondering how this might affect their business. While Manta's poll suggests more than half support higher minimum wages, many are still unsure how they will make the compensation change.
ABOUT THE AUTHOR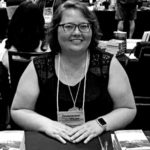 Kristina Knight is a freelance writer based in Ohio, United States. She began her career in radio and television broadcasting, focusing her energies on health and business reporting. After six years in the industry, Kristina branched out on her own. Since 2001, her articles have appeared in Family Delegate, Credit Union Business, FaithandValues.com and with Threshold Media.