How brands can better manage social
I asked Sean O'Neal, Adaptly's President about the state of social media advertising and what he sees ahead:
Kristina: You have at times call social media platforms "autonomous marketing platforms." Why?
Sean: "Social media" – Facebook, Twitter, Pinterest, etc – may have grown up around sharing updates with friends and family and direct messaging, but now are widely used for things like visual search, video publishing, real-time events, augmented reality, and e-commerce. These "walled gardens" are really autonomous marketing platforms where almost immediately and at enormous scale, consumers like to learn about new products, learn about the possibilities by engaging with brands and get recommendations from friends. These platforms are now an integral part of the shopping and buying experience. Autonomous marketing platforms are only going to represent a larger share from a user and time perspective. The shift from non-digital budgets–like television and out-of-home–to these platforms will continue.
Kristina: Where do you see the growth in autonomous marketing platforms in the next couple of years?
Sean: As mobile users have shifted from calling to messaging as their primary form of communication, platforms have emerged to fulfill demand and improve experiences. We've seen the rise of Snapchat, WeChat, WhatsApp, Kik, and of course, Facebook Messenger. These companies aim to control conversations within their own walls and move user experiences beyond just messaging. We've passed the tipping point where there are more users of messaging apps than social networking apps: 3 versus 2.5 billion.
Messaging apps are integrating customer service, financial transactions (see: the Square and Snapchat integration), and even ordering transportation from directly within a conversation (e.g., the new Uber-Facebook partnership). We'll see brands looking for new ways to engage users and messaging platforms will be the perfect vehicle for one-on-one customer service and personalized content. Some platforms are looking to provide additional content from brands and publishers in order to monetize these channels (Snapchat, Kik, etc.), while others see messaging as the gateway to new and exciting apps, games, music, and experiences (Facebook Messenger).
The idea of what was once a single group chat is transforming into the new mobile web right before our eyes. Mobile apps will be the gateway to an entirely new ecosystem where everything is accessible through a messenger conversation.
More brands will form integrations with mobile messaging apps to gain the opportunity to build one-on-one relationships with consumers and become part of their everyday lives.
Advancements in Artificial Intelligence (AI) will help make these interactions more seamless.
ABOUT THE AUTHOR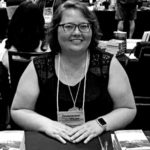 Kristina Knight is a freelance writer with more than 15 years of experience writing on varied topics. Kristina's focus for the past 10 years has been the small business, online marketing, and banking sectors, however, she keeps things interesting by writing about her experiences as an adoptive mom, parenting, and education issues. Kristina's work has appeared with BizReport.com, NBC News, Soaps.com, DisasterNewsNetwork, and many more publications.