Report: 90% shoppers now using coupons
"Ninety percent of all consumers across a variety of demographics use print and digital coupons," said Curtis Tingle, Valassis Chief Marketing Officer. "What may be a surprise is that 83 percent of the influential millennial generation used the same or more print coupons last year in addition to their increased digital coupon use. The key for astute marketers is to develop integrated print and digital coupon strategies to optimize consumer activation."
Some interesting findings from the report include:
• 90% of affluent ($100k+ yearly household income) use coupons
• 76% of affluents 'only buy' products if they have a coupon
• 91% of brand loyal shoppers use coupons
• 78% 'are influenced to buy' from new brands because of coupons
As to which coupons they are using – digital or print – 87% of shoppers are using print coupons they receive from mailings and 82% are using newspaper coupons. Millennials' coupons use for both mail and newspaper increased more than any other generations' use (YoY).
Researchers also found that shoppers are beginning to make their shopping trip lists according to the coupons they have. The report finds most (86%) are planning their shopping lists around coupons while 77% are selecting stores based on which ones accept paper coupons.
ABOUT THE AUTHOR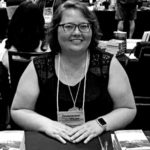 Kristina Knight is a freelance writer based in Ohio, United States. She began her career in radio and television broadcasting, focusing her energies on health and business reporting. After six years in the industry, Kristina branched out on her own. Since 2001, her articles have appeared in Family Delegate, Credit Union Business, FaithandValues.com and with Threshold Media.