LinkedIn launches Account Targeting ad feature
As of March 2, 2016, the professional networking website LinkedIn will launch a new account-based ad feature that will allow advertisers to more effectively target Sponsored InMail and Sponsored Updates.
Called 'Account Targeting', the feature will allow businesses to upload lists of up to 30,000 accounts which LinkedIn will then cross-reference against its more than 8 million company pages to build a target segment. The same feature can be used with other advertising tools on the network's site so advertisers can target specifics such as geographic regions and job titles for a few thousand companies. Advertisers may also upload lists of those accounts they do not want to target with ads, such as existing clients.
Talking to TechCrunch, Russell Glass, head of products for LinkedIn Marketing Solutions, alluded to the fact that the network's current company-targeting features "aren't ideal" – being mainly a manual process and restricted to 100 companies. The new feature, says Glass, allows marketers' LinkedIn activity to be "more aligned with what the sales team is already doing".
While LinkedIn plans to roll out the Account Targeting feature through its self-serve tool, it is currently limited to those brands buying ads directly from LinkedIn's sales team.
ABOUT THE AUTHOR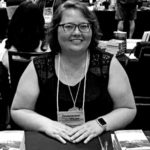 Kristina Knight is a freelance writer based in Ohio, United States. She began her career in radio and television broadcasting, focusing her energies on health and business reporting. After six years in the industry, Kristina branched out on her own. Since 2001, her articles have appeared in Family Delegate, Credit Union Business, FaithandValues.com and with Threshold Media.