Survey: SMBs getting out the vote
Manta surveyed small business owners to determine what concerns they have during this election year. They found most (60%) plan to vote in their state's primary or caucus. Comparatively, fewer than 20% of general residents are expected to turn out for either the primary or caucus races.
Why are SMBs leading the primary election charge? Concerns about their business. Manta's research indicates 49% have concerns about the economy and 18% are concerned with taxes. These are issues that any new President, Senator or Representative can impact, so small business owners are hoping by turning out early, their candidate will have a better chance during the election in November.
Other interesting findings from the report include:
• 56% of Democratic SMB owners say they support Hillary Clinton, 40% say they support Bernie Sanders
• 60% of Republican SMB owners say they support Donald Trump, 16% say they support Ted Cruz
ABOUT THE AUTHOR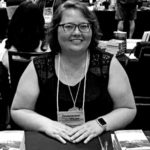 Kristina Knight is a freelance writer based in Ohio, United States. She began her career in radio and television broadcasting, focusing her energies on health and business reporting. After six years in the industry, Kristina branched out on her own. Since 2001, her articles have appeared in Family Delegate, Credit Union Business, FaithandValues.com and with Threshold Media.