Laptops more popular than mobile for travel research
RhythmOne's survey of more than 250 online adults found that more than a third (37.5%) plan to take a vacation this winter, venturing more than 100 miles from home. But, how are they conducting their research and purchase?
RhythmOne's findings reveal that brands need to consider current trends if they are to maximise results from advertising. While mobile might be the device-du-jour, the survey revealed that most (53%) respondents use laptops exclusively for vacation research. Forty-three percent use mobile in their travel planning and 27% use a mix of both laptop and mobile.
Less than 1 in 5 (16%) use mobile exclusively for vacation planning. Those that do are most likely to research specific destinations, read reviews and visit official websites.
RhythmOne's research also highlights the growing trend of mobile use while on vacation. Almost a third of respondents say they use mobile more on vacation than they do at home. This echoes recent global research from Expedia which found that 35% say they use their mobile device more while on vacation than at home.
"That means that whether they have planned ahead or are more "impromptu," you can take advantage of last minute opportunities to grab their attention "on the go" while their barrier of resistance is likely to be lower," says RhythmOne in a recent blog post.
ABOUT THE AUTHOR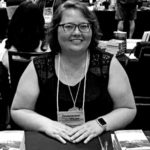 Kristina Knight is a freelance writer with more than 15 years of experience writing on varied topics. Kristina's focus for the past 10 years has been the small business, online marketing, and banking sectors, however, she keeps things interesting by writing about her experiences as an adoptive mom, parenting, and education issues. Kristina's work has appeared with BizReport.com, NBC News, Soaps.com, DisasterNewsNetwork, and many more publications.