Ad Roundup: Platforms to improve data, prevent fraud
First, Talend has launched a self-serve application that converts raw data into analytical insights. Talend Data Preparation streamlines the data process without the need for spreadsheet management.
"While many companies have made good progress on their path to becoming more data driven, a major stumbling block is often the last mile of the journey as companies work to get accurate and actionable information in the hands of more business users," said Ciaran Dynes, vice president of products, Talend. "Talend Data Preparation helps bridge this gap by alleviating the common challenges of overburdened IT teams that can't keep up with the growing data demands of the business, and data analysts who are all too frequently spending more time wrangling data that they are supplying insights."
Meanwhile, the NoFraud platform has launched into the online space, promising to decrease online transaction fraud rates to less than 1%. The platform uses more than 1,000 data points to determine if online transactions are legitimate or fraudulent, and if a purchase has the potential to be fraudulent uses Live CardHolder Verification.
"I have always been on the forefront of battling fraud," says Ezzie Schaffran, former VP of Operations & Risk Management at Worthy.com, an Israeli startup focusing on the 30-billion-dollar high-end luxury goods resale market and Ice.com, and currently at Certified Watch Store. "NoFraud is by far the most revolutionary fraud prevention platform I have seen in a long time. Integration was quick and the results speak for themselves. I actually haven't had a single CNP fraudulent transaction since we started using NoFraud. This has allowed me to focus on growing my business instead of wasting resources trying to outmaneuver the fraudsters."
ABOUT THE AUTHOR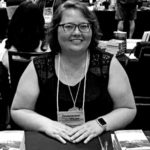 Kristina Knight is a freelance writer based in Ohio, United States. She began her career in radio and television broadcasting, focusing her energies on health and business reporting. After six years in the industry, Kristina branched out on her own. Since 2001, her articles have appeared in Family Delegate, Credit Union Business, FaithandValues.com and with Threshold Media.