Expert: Look for more mobile in 2016
Kristina: How is mobile changing ecommerce?
Jonathan Opdyke HookLogic, CEO & Co-Founder, HookLogic : For brands and retailers alike, this means they must think 'mobile first.' From an advertising perspective, this translates to native – there simply isn't any other room for media types on ecommerce sites on the smaller screen. The mobile experience has to be top-notch and retailers can make sure they focus on this in 2016, as the numbers are likely to be even higher in the next holiday season.
Kristina: How can retailers do a better job of using e- and m-commerce for their in-store customers?
Jonathan: Retailers are making great progress in innovating how mobile, web and the store seamlessly serve the customer together. It's important that product details such as price, description, availability, shipping and time all be readily available to the shopper at all times and across all devices. Arming sales associates with mobile devices and/or access to the ecommerce site is a great way to provide a great in-store experience, while bringing in the convenience and wealth of information available via digital channels.
Kristina: What about online orders for pick-up or delivery. Are those areas of the consumer space beginning to show an uptick in use?
Jonathan: There was a big growth of 'order online, pickup in-store.' There was also growth in online grocery delivery and pickup. This is good news for retailers because many shoppers make additional purchases when they come in to retrieve their items. Given this trend, retailers must ensure that in 2016 they have the technology in place to handle in-store pickup, as well as strive for same-day pickup, a fulfillment option that is rapidly becoming an expected consumer preference.
ABOUT THE AUTHOR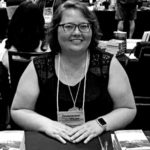 Kristina Knight is a freelance writer based in Ohio, United States. She began her career in radio and television broadcasting, focusing her energies on health and business reporting. After six years in the industry, Kristina branched out on her own. Since 2001, her articles have appeared in Family Delegate, Credit Union Business, FaithandValues.com and with Threshold Media.