Nearly half of Brits will purchase Christmas gifts online
More than three-quarters of a billion gifts will be shared by Britons this Christmas, the result of a £24.4bn (US$37.7bn) spending spree. And, as might be expected, much of those purchases will be made online. But, to what extent?
According to digital advertising company RadiumOne's research, among those who know how they will be purchasing gifts this year, just 13% will do both their research and shopping in a physical store. That figure rises to 23% among shoppers aged 55 and and over. Instead, researching and buying online is the most popular method with 45% planning to use this channel, rising to 58% among those aged between 45 and 55.
Of those planning to purchase online, 24% will use at least two devices with the youngest of the respondents (16-24) being the most likely to do so (44%). However, the use of multiple devices was found to increase with income. The preferred device for making a purchase is the desktop PC (72%), more so among those over 55 (82%). Just 17% will make purchases via mobile, although that's more than plan to use a tablet (13%).
Despite the digital revolution, the survey found that physical Christmas cards continue to be more popular than e-cards, which can often seem less personal and can't be used as part of the decoration of a home for Christmas. Overall, 79% will send physical cards, rising to 88% among those over 55.
"Christmas is, by far, the biggest sharing event of the year and it's fascinating to see how influential technology now is, with its multiple devices, in the whole of the Christmas decision-making process," said Rupert Staines, RadiumOne's European managing director.
"With the UK population being the most sophisticated e-shoppers in the world, it's absolutely critical for brands and retailers to better understand these consumer connections and their fast-evolving relationship with technology to ensure their advertising delivers the ideal Christmas sales boost."
ABOUT THE AUTHOR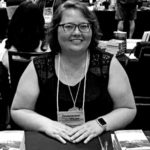 Kristina Knight is a freelance writer based in Ohio, United States. She began her career in radio and television broadcasting, focusing her energies on health and business reporting. After six years in the industry, Kristina branched out on her own. Since 2001, her articles have appeared in Family Delegate, Credit Union Business, FaithandValues.com and with Threshold Media.