Consumers prefer print ads when away from PC
Once consumers are on the go, away from the big screen of their desktop PC, it would be logical to think that those omnipresent mobile devices, smartphones, would be the preferred way in which consumers interact with brands.
However, according to new research released by MarketingSherpa, that would be an incorrect assumption. Their survey of U.S. Internet users revealed that print ads are preferred by almost half (47%).
"[Consumers] are not just constantly in a buying mode, sometimes they're in a discovery mode," said Daniel Burstein, MarketingSherpa's director of editorial content. "Print is a really good thing for that."
In fact, print ads were 10 points ahead of email via smartphone, and above radio ads and text messages. Just 12% cited a brand's mobile app, 6% push notifications and 4% in-app ads.
The research also found that a consumer's appetite for print ads differs considerably with age. More than 60% of respondents above the age of 65 said print ads were their preferred mode of communications with brands when they were away from their computers, significantly higher than the 36% of 18- to 34-year-olds who responded the same way.
ABOUT THE AUTHOR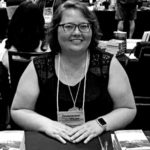 Kristina Knight is a freelance writer based in Ohio, United States. She began her career in radio and television broadcasting, focusing her energies on health and business reporting. After six years in the industry, Kristina branched out on her own. Since 2001, her articles have appeared in Family Delegate, Credit Union Business, FaithandValues.com and with Threshold Media.