Top tips to build buzz from online events
Kristina: How can marketers decide which event(s) to participate in and allocate budget for?
Matt Engel, CEO, Attend: Deciphering the potential impact of participating in (and allocating the budget for) a particular event can be as simple as a two-step process. First is to reach out to the previous year's exhibitors to understand what value they got out of sponsoring the event and whether they'd recommend it. The second is to ask for the titles and company information from event organizers prior to signing a contract. Matching that list with your target prospect and customer list will quickly give you a sense of whether the "right" attendees will be at the event. If your company has a broad audience, you'll at least want to verify that the right titles will be in attendance.
Kristina: How does Attend work with clients to help them maximize their sales leads at events?
Matt: Attend has two common use cases. On the one hand, field marketers and event planners use the Attend platform to streamline their event management process and uplevel the event experience for both their sales team and attendees. The second use case is related to how sales reps are leveraging Attend to better understand who is attending events and why they matter. Attend's mobile app is designed to keep sales and marketing teams informed with real-time updates on when someone registers or checks into an event. The app pulls data from Salesforce so that internal teams can identify at a glance the most important information about the guest before they meet face to face. Coupled with the ability to take notes, Attend's app makes salespeople more effective at events and shortens the follow up process.
The app has a place at both hosted and sponsored events. Many of Attend's customers will use our mobile app in place of lead scanners to allow the sales team to manage all of their interaction data from events in one central location.
Kristina: What is the best piece of advice you offer clients looking to use events to accelerate their pipeline?
Matt: I'd say it's twofold. If you're attending an industry event, you must find opportunities to have 1:1 interactions with the prospects and customers that matter most to you. Equally important, you need to find an easy way for your sales team to record their interactions so that the follow up process post-event is meaningful and stress free.
If you're hosting your own events, it's critical to get out of the stone age. Stop using spreadsheets and email to manage events and start using an event management platform. Streamlining the event process and being able to provide real-time insight into who has registered or checked into an event (and why they matter to your organization) makes event planners look good and improves the overall event experience for everyone.
Kristina: What are some best practices for marketing teams working with sales teams?
Matt: •Involve sales early on in the planning process and make sure they are supportive of your events strategy.
•Empower your sales teams to be more effective and productive at events with event management mobile apps.
•Leverage event management systems and mobile apps to work for you at industry events, to manage your onsite meetings, mini-events, record notes and track all of the activity back into your CRM.
ABOUT THE AUTHOR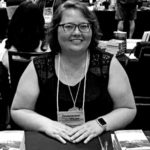 Kristina Knight is a freelance writer with more than 15 years of experience writing on varied topics. Kristina's focus for the past 10 years has been the small business, online marketing, and banking sectors, however, she keeps things interesting by writing about her experiences as an adoptive mom, parenting, and education issues. Kristina's work has appeared with BizReport.com, NBC News, Soaps.com, DisasterNewsNetwork, and many more publications.