Millennials demonstrate highest levels of trust in advertising
Millennials "came of age with the Internet" says Nielsen, but it's not just online and mobile advertising formats that garner the high levels of trust in advertising among Millennials. Across 18 of 19 advertising formats and channels, including print and television, Millennials were found to be the generation most willing to take action.
"Millennials consume media differently than their older counterparts, exercising greater control over when and where they watch, listen and read content–and on which device," said Randall Beard, president, Nielsen Expanded Verticals. "But even if they rely less heavily on traditional channels, their trust and willingness to act on these formats remains high. While an integrated, multi-channel approach is best across all generations, it carries even more importance when reaching Millennials."
Age aside, levels of trust in advertising were found to be highest in developing markets. While respondents to Nielsen's survey based in Europe were the most skeptical of advertising, demonstrating the lowest levels of trust for all 19 formats, those in Latin America demonstrated the highest in 10 of the 19.
North America, meanwhile, is a mixed bag, with trust levels below the global average for 9 out of the 19 channels.
More than eight-in-10 global respondents (83%) say they completely or somewhat trust the recommendations of friends and family, a sentiment echoed in recent research from Experticity.
Their study found that, while 83% of marketers believe traditional advertising is the most effective means of influencing consumers' buying decisions, less than half of consumers (47%) agreed with them. When it comes to which sources consumers trust the most, people featured in the top three. Eighty-one percent of consumers ranked family or friends as their top trusted source, followed by online reviews (76%) and third-party experts (70%).
ABOUT THE AUTHOR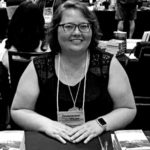 Kristina Knight is a freelance writer with more than 15 years of experience writing on varied topics. Kristina's focus for the past 10 years has been the small business, online marketing, and banking sectors, however, she keeps things interesting by writing about her experiences as an adoptive mom, parenting, and education issues. Kristina's work has appeared with BizReport.com, NBC News, Soaps.com, DisasterNewsNetwork, and many more publications.