Expert: How to use events as lead-gen
Kristina: How can marketers best leverage events as a lead generation tool?
Matt Engel, Attend CEO: Events are the #1 best source to build and maintain relationships. In terms of lead generation, they are a prime opportunity to get in front of tens or hundreds of prospects in a concentrated amount of time. The most important thing you can do to insure that you are driving quality leads is to understand who will be attending the event before you arrive onsite. This information is very powerful, as it allows the team to schedule meetings ahead of time with key prospects and customers and prepare accordingly.
Kristina: Why are events an effective route for pipeline acceleration?
Matt: Face to face interactions are second to none. Events are a powerful way to start, continue and maintain relationships. In-person events make it much easier for salespeople to understand their customers' needs, which in turn helps them move a prospect through the pipeline more quickly. Events also give sales reps the ability to build several meaningful relationships in a relatively short period of time and with little travel necessary. A three hour dinner, for example, tied to an industry event can connect a sales rep with five to 10 of his prospects on a meaningful level, something that would be hard to do digitally and would require a greater time commitment otherwise.
Kristina: What tactics have successful marketers employed to maximize engagement and prospects at events?
Matt: Successful marketers have different strategies for different stages of leads at events because they understand that not all conference attendees are created equal. Cold, top of funnel leads, for example, typically consist of 60% of booth traffic and are best handled with quick product demos, interactive games, giveaways and raffles. Warmer target leads should be engaged with prior to the conference with the goal of having onsite meetings and participation in any customer breakouts. Technology has simplified this process, and marketers can now leverage event apps that make it easy to record when key targets and customers visit their booth, and provides the ability to take notes so that the data is quickly synced back into Salesforce.
Customers should also be engaged with prior to the conference for meetings and private event inclusion. Successful marketers make it fun and engaging for customers to spend time in their booth talking to prospects. Incentivizing your customers to advocate your company to your prospects, or even attend your prospect meetings, can be a powerful tool in your sales pitch.
ABOUT THE AUTHOR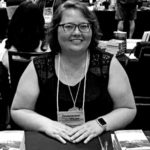 Kristina Knight is a freelance writer with more than 15 years of experience writing on varied topics. Kristina's focus for the past 10 years has been the small business, online marketing, and banking sectors, however, she keeps things interesting by writing about her experiences as an adoptive mom, parenting, and education issues. Kristina's work has appeared with BizReport.com, NBC News, Soaps.com, DisasterNewsNetwork, and many more publications.