Are you EMV-ready? If not, it could prove costly.
As of 1 October, 2015, a major credit card transition is taking place as the industry moves towards EMV technology (EMV stands for Europay, MasterCard, Visa). Newly issued credit cards will use microchips installed on the front of cards to register payments with stores instead of the traditional magnetic strip. A magnetic strip will still be present on the reverse of cards, even newly issued ones, so they can be read in stores who have yet to update their technology.
However, according to Software Advice's survey of SMBs, a significant number (78%) have not yet adopted EMV-ready systems in-store. Of those non-compliant retailers, nearly a quarter (23%) say migration to the new technology is "unnecessary", more so because two-thirds of consumers don't yet have an EMV chip-card.
But there is good reason for retailers to get with the program. From 1 October, retailers are now liable for any fraudulent transactions made with magnetic strip cards. In effect, liability for transactions made with fraudulent payment cards shifts from card issuers to merchants if they do not have EMV-compliant technology.
Speaking at the Retail Solutions Providers Association's RetailNOW 2015 event, Randy Vanderhoof of the EMV Migration Forum said that while there is no regulatory authority requiring retailers to shift to EMV technology, "it's really a part of business process for everyone to be on the same page to do this, and to use the incentives that are in place, or to avoid the penalties that are being levied, if people don't move in the same timeframe".
ABOUT THE AUTHOR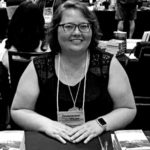 Kristina Knight is a freelance writer with more than 15 years of experience writing on varied topics. Kristina's focus for the past 10 years has been the small business, online marketing, and banking sectors, however, she keeps things interesting by writing about her experiences as an adoptive mom, parenting, and education issues. Kristina's work has appeared with BizReport.com, NBC News, Soaps.com, DisasterNewsNetwork, and many more publications.